Company Philosophy
The new BMD Foundry Technology GmbH is based on three strong pillars, on the one hand on the parent company, Ziheng in Tianjin, a well-known manufacturer of foundry technology in China, on the other hand on the BMD, which is known beyond the borders of Germany for the solidity and longevity of its products, and on the third hand the worldwide BMD customers. The knowledge and experience are bundled in our new company and used for the benefit of our customers.

We want to become a reliable partner for the foundry industry again. In doing so, we build on the many years of know-how of the former BMD. We will supply our customers with products of the highest quality. Together with our customers, we will continue to develop our machines and systems and adapt them to the requirements of the market and the environment.

Sustainability is an important goal for us, as the lifespan of our machines is not measured in years, but rather in decades. The longevity of our products also shows that every customer relationship is geared towards a long term.

For us, every customer relationship means an important partnership. The customer and his wishes are at the center of our efforts. We want to satisfy our partner with expertise and reliability.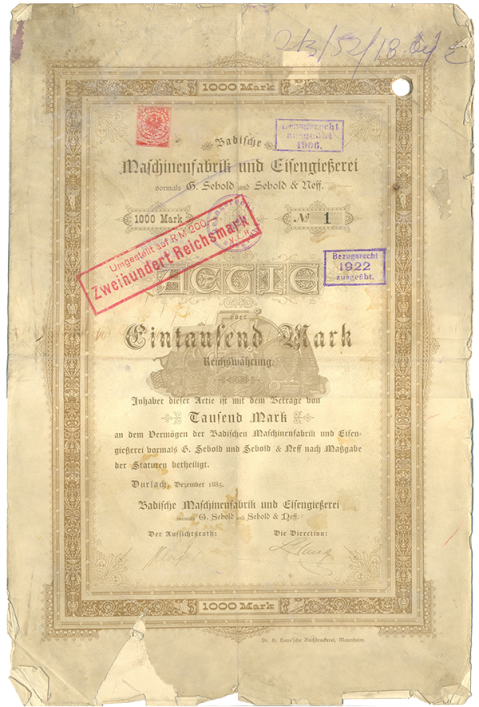 History of BMD
1855 Johann Georg Sebold applies for a license to operate a mechanical workshop, which he only received in 1857. He built match machines, steam machines and machine tools.
1867 Patent application for double moulding machine from J.G. Sebold & Friedrich Neff
1885 Foundation of a stock corporation called "Badische Maschinenfabrik und Eisengießerei, formerly G.Sebold and Sebold & Neff
1929 The company is sold to the Swedish company Svenka Tändsticks Aktiebolaget (later Arenco).
1986 The Riepl construction group passes the company on to the Danish A.P.Möller Group, which integrates it into "DISA A/S".
1995 DISA founds Georg-Fischer-DISA GmbH with a 50% share in GeorgFischer. The idea: to combine GF and BMD technology for flask-bound molding systems.
2007 SOMAKO takes over BMD-Formtechnik from DISA in order to ensure worldwide service for BMD customers.
2012 ZIHENG and SOMAKO sign a cooperation agreement for the foundry market.
2013 SOMAKO transfers the molding technology to the independent "BMD Foundry Technology GmbH" with the support of ZIHENG.
2016 Relocation from Kürnbach to Sternenfels.
2020 BMD becomes a 100% subsidiary of ZIHENG HENGTEER; Tianjin / China www.zihengtj.cn